25 October - 14 November
2013
BAZIS
contemporary art space

F.D.P. - Fabrica de Pensule, 59-61 H. Barbusse st., 1st floor
Cluj
-
Napoca

THE CAMOUFLAGING STRATEGY
artists: Simone ZACCAGNINI & Anna GRAMACCIA

The value of mimetic behavior lies in its ability to avoid becoming a passive object of vision. Camouflage is a natural strategy for enhancing survival in response to environmental uncertainty by creating a deception in the seeing eye.
When outlines fade and shapes are broken, the observed object assimilates itself with the environment. If something cannot disappear, it can at least look like what it is not,
creating a crossover of information and preventing its recognition.
There emerges a comfort-zone, a field of privacy in which one can mediate between the impulse to show and the one to hide, the need to stand out and the one to take part.
Camouflage allows one to manage one's profile in terms of low visibility, which may be accessed through a series of visual passwords, allowing the subject to choose its own contacts.
Visual relationships and forms of control established through this ambiguity are a hidden side of collective consciousness.
Observing or being observed. Pretending to disappear.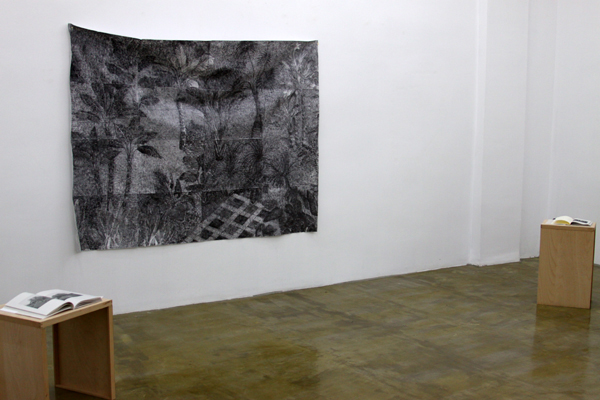 video & photo: Dalma NYIRI
Anna GRAMACCIA

HIDDEN
2013
Pages: 33
Paper: 55g newspaper
Size: 29 x 21 cm
Allotment gardens are an inconspicuous but widespread phenomenon in many countries. In Germany they are called "Kleingarten" (little gardens) and number over one million. They were born to compensate for the lack of private gardens in the city. Equipped with tiny cottages, they appear as little villages carved into the surrounding concrete. The "Kleingarten" are often barely visible, protected by hedges and fences. They may lie along railway tracks, on the edge of residential neigborhoods, or even tugged against high-rise apartment buildings. They have role of appendage to an apartment situated nearby. The plots are organized as club with a set of internal regulations; accordingly, the occupants of the little gardens are neighbors as much as members of a communal organization. Entry into the "Kleingarten" often require years on a waiting list and is contingent on approval by a selection committee. Upon admission and assignment of a small plot, the new member has to pay a membership fee and rent for his or her parcel of land, albeit at a very affordable rate. The gardens usually feature a small, but fully equipped cottage.
Simone ZACCAGNINI

"Unknown"
2013
Limited Edition Slipcase + Book
Pages: 32
Paper: 55g newspaper
Size: 21 x 15 cm
Binding: Carton, Tissue Paper, Elastic